ProfitBooks is a simple to use online accounting software that lets you create great-looking professional invoices and receive payments from your customers in no time!
The interface is very user-friendly. You can manage your accounting, finance, inventory, payroll, and invoices in an easy manner. You also access all your data on mobile, tablet, or laptop.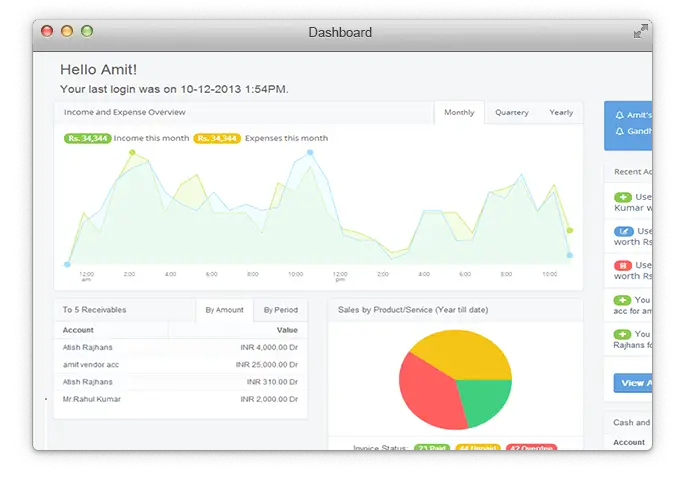 Key Features of Profitbooks Accounting Software
Create Beautiful Invoices
ProfitBooks lets you:
Create Time-based invoices from tasks
Create 'Cash Invoices' for cash transactions
Track overdue invoices and receivables
Identify customers who owe you and follow up with them
Track Day To Day Expenses
Know where your money is going and organize your spending easily.
ProfitBooks lets you:
Attach scanned expense receipts
Categorize expenses according to projects
Record payment made to vendors
Track your payables
Record stock purchases
Create professional Purchase Orders and send them directly to your vendors.
Record Banking Transactions
Get all your bank accounts in one place. Easily record cash withdrawals, deposits, and transfers from a simple interface.
Unlike traditional (read complicated) accounting systems, you don't need to worry about the debit-credit effect. Just simply record the transactions as they happen and all the necessary accounting will be automatically done in the background.
Manage your stock efficiently
Manage all the products, their production, transfer, wastage, and everything else easily with ProfitBooks!
Maintain multiple Warehouses
Allocate batch numbers
Maintain re-order level
Identify top-selling product
View all transactions in one place
Complete Accounting
ProfitBooks is designed keeping Indian Accounting Standards in mind. It presents a very simple interface that even non-accountants can understand and takes care of all the complexity behind the scenes.
ProfitBooks lets you
Record-Journal entries
Maintain chart of accounts & taxes
Simple accounting entry screen to record all types of transactions
Invite an auditor to review your books
Run Monthly Payroll In Minutes
Save time every month by processing payroll with just a few clicks. Accounting entries are recorded and salary slips are generated automatically.
Manage employee leaves
Define salary structure easily
Maintain pay revision history
Generate payment advice for bank
Pay head wise reports
Take Better Decisions
With in-depth reports available at a click of a button, you always know what's going on in your business.
Balance Sheet, Trial Balance, and Profit & Loss reports
Customer Statement & Outstanding due
Product-wise reports
Task, Timesheet reports
Payroll reports
Various other useful reports.
Pricing of Profitbooks Accounting Software
Professional Plan
Rs. 5,999 Rs. 4,500 per year*
 Accounting + Payroll
Includes 10 Free Users
Bill your client for the time, create invoices in multi-currency, track expenses, and manage finances without any accounting background.
Perfect for service-based businesses, CAs, lawyers, advertising agencies, and independent professionals.
SMB Plan
Rs. 8,999 Rs. 6,750 per year*
 Accounting + Inventory + Payroll
Includes 10 Free Users
Create sales orders & POs, purchase & sell inventory, maintain warehouses and track stock movements or wastage easily.
Best for resellers, manufacturers, and shop owners or for any business dealing with physical products.
The Best way to experience ProfitBooks is to try it yourself!
Start your free fully featured one-month trial and find out how ProfitBooks can be helpful to your business.
Next What Business Research Team
The Editorial Staff at NextWhatBusiness is a team of Business Consultants having years of experience in small and medium-scale businesses.