If you are looking for tailor-made software for your gym, salon, or yoga studio, Mindbody software is one of the best in the business. Here in this article, we cover reviews, pricing, features, and alternatives to Tula software.
Mindbody is a club management software helping health and wellness studios and companies to smoothly run their business and marketing operations.
Presently, Mindbody caters to 35 million consumers located in over 130 countries. More than 60,000 health and wellness business owners worldwide use MINDBODY software for operating their businesses on a daily basis. The company was founded in the year 2000 in the United States.
MINDBODY Software Review with Pricing, Features, Alternatives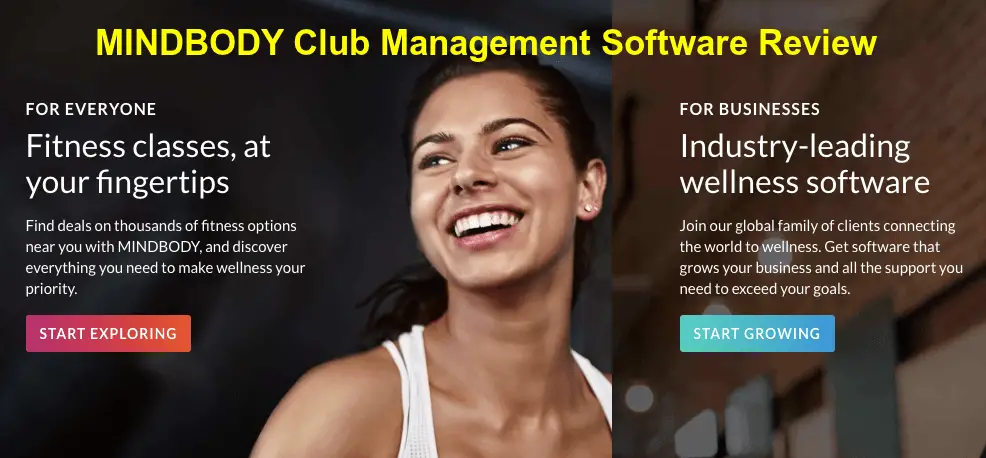 What is Mindbody Software & How it Works
With Mindbody, you can create your own app to run your training studio at ease. Mindbody is a custom mobile app that helps you in building your own studio brand.
You do not need to hire an outside developer to build your app. Mindbody designs your app and place the app in their app store so that users can download the app directly from there.
In addition, the app works across iPhone, iPad, and Android platforms.
It also improves your sales and client retention. It empowers you with powerful booking and scheduling tools providing members with access to your business directly from their mobile phones.
You can send automated push notifications to stay connected with your customers through Mindbody. The app allows your customers to easily check your training calendar.  They can book and pay for classes at their convenience from wherever they are. The app has an in-built point of sale software.
Positive Reviews of Mindbody Software
Mindbody is easily the most powerful and comprehensive software available to help run your health and fitness company. Users appreciate the ability of the app to resize the window allowing them to control the amount of information on the screen. Mindbody app is popular mainly because of ease of use on all platforms.
Negative Reviews of Mindbody Software
However, there are some negative reviews too. Pricing is an issue for small-time training center owners. When we searched Capterra, we found one user documented the following grievance which we feel worth mentioning.
The user says "No way to book appointments directly on your own website. This is a pretty big one for me obviously. The booking page for the customer is stark, confusing, and unnecessarily cumbersome.
There needs to be a way to make the integration more seamless and pretty. I guess it's just very disappointing because the software and company are otherwise very good. This seems like such a no-brainer and I feel like I'm losing business because of it. This needs to be addressed."
Mindbody Software Pricing
Mindbody has three pricing modules. They are Essential, Accelerate, and Ultimate. The pricing is $129, $ 195, $395 respectively.
The pricing starts Essential $129: This module is the basic and it covers scheduling classes, tracks inventory, manages and schedules staff, runs payroll, selling services, promoting business in the Mindbody app, and a lot more.
Accelerate $239: In addition to Essential features, this module includes payroll integrations, email campaign builder, smart contact lists for email marketing.
Ultimate $349: Ultimate module includes advanced marketing tools, automation & analytics along with all the features of the Accelerate module.
The software offers free demo to first time users.
Mindbody Software Features
The app provides a lot of features for its users in their app. Some of them are the following:
Online booking
Room Booking Management
Marketing
Point of sale
Staff resources
Comprehensive reporting
Automated tasks, scheduling, and billing
Payroll
Website and Facebook integration
Android and iOS app
Filters
Promotion
Automated notifications and reminders
Gift-cards
Online store
Auto-billing
Comprehensive profiling
Unique Logins
Payroll tracking
Recurrent payments
Auto refilling of spots
Attendance management
Barcode scanning
Class scheduling
Employee self-service
Referral tracking
Who can use Mindbody?
Mindbody can be used by small, medium, and large-sized salons, gyms, fitness studios, yoga centers across the globe.
How Mindbody Supports Users?
Mindbody offers the following support options:
Documentation, Online Support, Phone Support, Video Tutorials
Deployment
Cloud, SaaS, Web, Mobile-iOS Native.
Popular Alternatives of Mindbody
If you are looking for software for your gym, fitness, or yoga studio you can check other software providers like Glofox, Tula, Wellness Living, Zenplanner, etc.
Next What Business Research Team
The Editorial Staff at NextWhatBusiness is a team of Business Consultants having years of experience in small and medium-scale businesses.