It is without saying, mattresses are integral parts of beds. A good night's sleep is critical for our general well-being, and the correct mattress can help us achieve that. With so many mattress manufacturers on the market, it can be difficult to identify which ones provide the best quality, comfort, and support. Here in this article, we list down the best mattress brands in India, along with a buying guide and answers to frequently asked questions to assist you make an informed decision.
Types of Mattress
Before jumping into the list of the top mattress companies in India, it is important to know the popular types of mattresses available. Some of the major types of mattresses are listed below:
Memory Foam Mattress
Innerspring Mattress
Coir Mattress
Latex Mattress
Hybrid Mattress
Airbed Mattress
Pillow-top Mattress
Gel-infused Mattress
Orthopedic Mattress
Indian mattress brands are renowned for their quality, durability, and comfort. Each brand produces different types and sizes of mattresses to suit everyone's budget and needs.
The Indian mattress market was valued at approximately INR 103 billion in 2020. Industry experts expect the market revenue to reach INR 191 billion by 2025. Hence, no wonder, many domestic and multinational mattress companies have entered the Indian market. Find below, some of the best mattress brands in India in random order.
Our Top Picks:
| Brand Name | Approx Price Range | Latest Collections |
| --- | --- | --- |
| Wakefit | Rs. 5000 – Rs. 25,000 | Click Here |
| Kurl On | Rs. 3700 – Rs. 25,000 | Click Here |
| Sleepwell | Rs. 4700 – Rs. 30,000 | Click Here |
List of 25 Mattress Brands in India
1.  Wakefit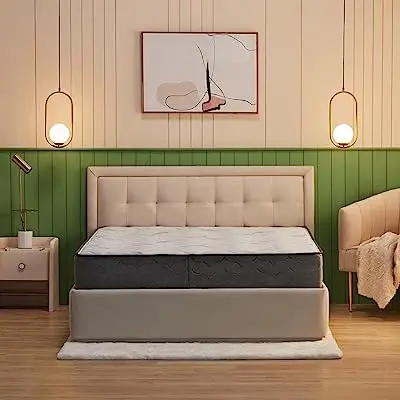 Wakefit is one of the best mattress brands in India. The company was founded in the year 2016. Wakefit manufactures mattresses for beds of various sizes as well as divans. The company started as an online mattress brand. It disrupted the traditional mattress industry by offering direct-to-consumer sales and doorstep delivery.
Presently, the company has expanded its product range to include pillows, bedsheets, and other sleep accessories. Wakefit offers a variety of mattresses to cater to different sleep preferences and needs.
2. Kurl-On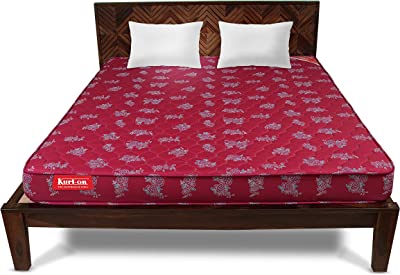 Kurl-on is one of the oldest and most well-established mattress brands in India. The company was founded in 1962 by Ramesh Pai and is known for introducing the first coir mattresses in the country.
Kurl-On mattresses are available in single, double, king, and queen sizes and a variety of colors. The thickness of Kurl-On mattresses varies between 4 to 8 inches. Kurl-on makes all types of mattresses including coir, foam, high-density foam, bonded foam, pocket springs, etc.
3. Sleepwell
Sleepwell is a renowned mattress brand in India and a subsidiary of the Sheela Foam Group. The company has a rich history dating back to 1971 when it started as a small foam manufacturing unit.
The company produces mattresses of different sizes like single, double, king, or queen sizes. In addition, their mattresses are made of a variety of materials like coir, natural latex, memory foam, pocket spring, etc. Sleepwell also produces specially made Ortho Comfort mattresses for persons with orthopedic problems.
More Popular Mattress Brands in India
4. Duroflex
Duroflex is a leading mattress brand in India with a legacy that dates back to 1963. The company started as a manufacturer of rubberized coir mattresses
The company manufactures various kinds of mattresses including the ones for orthopedic patients. Their mattresses are made of foam, memory foam, coir, latex, Bonnell spring, and pocket spring. Available sizes are single, double, king, and queen.
5. Sleepspa
Sleepspa is a mattress brand promoted by Coirfit and has 35 years of experience in the mattress industry in India. It focuses on providing premium sleep solutions.
Sleepspa mattresses are made of latex, memory foam, cool gel memory foam, HR foam, rebounded foam, Bonnell spring, pocket spring, and rubberized coir. The Premium Orthopedic mattresses are made of memory foam and available in thicknesses of 5,6,8 and 10 inches.
6. SleepX
SleepX is a brand by Sleepwell, one of India's most renowned mattress manufacturers. Their orthopedic mattresses are renowned.
They manufacture durable, strong, comfortable, and reasonably priced mattresses for everyone including orthopedic patients. Their products include Dual Comfort Mattress, Ortho Plus Quilted Memory Foam Mattress, Bonnell Spring Ortho Mattress, and Ortho Cool Gel Plus Quilted Memory Foam Mattress in single, double, king, and queen sizes and thicknesses of 6 or 8 inches. SleepX also manufactures customized mattresses and gives you an offer of a 100-day trial.
7. Sleepyhead
Sleepyhead is a popular direct-to-consumer mattress brand that gained popularity for its innovative bed-in-a-box concept.
They manufacture mattresses with BodyIQ Orthopedic Memory Foam Technology that can adjust to the requirements of the user's body. Their Orthopedic Memory Foam Mattress provides special comfort and comes with a 10-year warranty. The company uses natural latex that provides firm support for the full body.
8. SleepyCat
SleepyCat is an online mattress brand known for its signature gel memory foam mattresses.
It is one of the most famous mattress brands in India. Their products are innovative and provide comforts of different ranges like the firm, medium firm, medium soft, etc. Sleepycat's Ultima mattresses provide you with a cooler feeling because of a special CoolTEC fabric that keeps the temperature of the mattress 4 degrees low. In addition, they also manufacture baby mattresses, hybrid latex mattresses, original spring mattresses, etc.
9. Flo
Flo is fast becoming a major mattress brand in India. The company started its operations in 2018 and emphasizes the use of advanced sleep technology and premium materials.
Most of the mattresses of this company provide support for your spine, can absorb heat from the body of the user, and have an anti-microbial cover with Aloe Vera gel. They have three types of products, namely, Ergo, Ortho, and Anti-Gravity.
10. Peps
Peps is one of the most affordable mattress brands in India. They started operations in the year 2005-2206 by acquiring a spring mattress manufacturing factory in Coimbatore.
Their reasonable price is an important factor behind the high sales of the company. Peps mattresses are made of Bonnell spring and Pocket spring and have thicknesses of 5,6,8,10,12 and 16 inches. The Organica mattress of Peps is anti-microbial, dust-mite resistant, chemical-free, and hypoallergenic. Other products are Spine Guard, Crystal, Opulence, Geneva, etc.
11. Springtek
Springtek is also a high-selling mattress brand in India. The company has sold to more than 2 million Indian Customers since 2010.
They manufacture mattresses of foam, spring, coir, and latex. The company offers a 1-12 years manufacturer's warranty depending on the product you choose. Apart from regular mattresses, they also produce organic mattresses for babies and orthopedic and spine support mattresses.
12. Sunday
Sunday is a favorite mattress brand in India that produces budget-friendly mattresses. Based in Bengaluru, Sunday is a start-up founded in 2015. Along with mattresses, they also manufacture pillows, mattress toppers, and mattress covers. It is one of the leading online start-ups in India.
Sunday manufactures mattresses that provide the twin benefits of comfort as well as firmness. Their popular products are Latex Plus 4 Mattress with 50-50 comfort and firmness, Ortho Latex4 Mattress with 60% firmness, and Ortho Memory4 Mattress with 70% firmness. All the products are reasonably priced.
13. SPACES
SPACES India is a trustworthy mattress brand in India. You can buy these mattresses online. SPACES is a division of Welspun, founded in 2005 in Anjar, Gujarat. Apart from mattresses, they also manufacture pillows, rugs, blankets, bed sheets, etc.
Their mattresses fall into three main categories. Firstly, the SleepDeep mattress ensures pure comfort with triple layers made of memory foam with a quilted top layer. Secondly, the Orthopedic Luxury Mattress is made of pocket springs and has a quilted top layer, providing top-grade orthopedic care. The third type is the Firm & Fab Luxury Mattress made from high-resilience PU foam.
14. Urban Ladder
Urban Ladder is an upcoming and popular mattress brand in India available online. Founded in 2012, Urban Ladder is an Indian start-up that manufactures furniture, tableware, and home décor items of different kinds apart from mattresses.
This company produces a wide range of mattresses in single, double, king, and queen sizes. They use several materials like foam, coir, cool gel foam, Bonnell spring, spring, pocket spring, etc. The thickness of mattresses varies between 2 and 16 inches. The company also manufactures orthopedic mattresses.
15. Dreamzee
Dreamzee is an innovative mattress brand in India. With its head office in New Delhi and manufacturing unit in Greater Noida, Dreamzee is a unit of E-Megamart. The company won the prestigious 'Top 10000 Selling Partner Club' award given by Amazon in 2019.
They produce environment-friendly mattresses that are comfortable, strong, and hygienic. Their Natural Collection mattresses are made of natural latex that is chemical-free, anti-allergic, cool, bio-degradable, and provides back support. Another range is the Hybrid range which is made of natural latex with memory foam, HR foam, Bonded foam, HD pocket springs, etc. This range includes orthopedic mattresses.
16. Coirfit
Coirfit is a good-name in mattress brand in India. Founded by Radhey Shyam Gupta 36 years ago, this company has its head office in Meerut and its corporate office in Kaushambi, NCR. Coirfit has more than 50 distributors and above 2000 retail partners.
The company produces comfortable mattresses in a reasonable price range. Coirfit mattresses are made of coir, memory foam, rebounded foam, spring, and HR foam. In addition, Ortho Carbon Anti Stress Mattress, Ortho Memory Zero Gravity Mattress, and Ortho Resilia Anti Static Mattress deserve special mention.
17. Foams India
Foams India is a reputed mattress brand in India that produces mattresses of 100% natural latex. The parent company Foams India Bed Products was founded more than 25 years ago and is based in Thiruverkadu, Chennai.
The Pearl FX and the Ortho FX mattresses are the highest-selling mattresses in Foams India. They use water-based adhesives, no chemicals or poly foams and the products are handmade.
18. Comforto
Comforto is a trusted mattress brand in India. It is a company managed by generations of a family for more than 40 years. The company started its journey back in 1978 and the mattress manufacturing unit was founded in 1992. The company is based in New Delhi.
They produce different kinds of mattresses made of foam, memory foam, pocket springs, etc. Siesta Orthopaedic Memory Foam Mattress is a premium product of the company that provides a trial option of 100 days and a 10-year manufacturer warranty against any manufacturing defect.
19. Amazon Basics
Amazon Basics is a known mattress brand in India due to the boom in e-commerce.
The main advantage of these mattresses is their reasonable price. The mattresses have a thickness varying between 4 and 8 inches. Furthermore, their USP is anti-allergic poly-cotton fabric which makes the mattresses ideal for people with skin allergies as well as lightweight.
20. Hypnos
Hypnos is a good mattress brand in India. It is a Bengaluru-based company.
The company produces different categories of mattresses namely Foamera, Furno, Memorio, Memorio ULT, Mirage, Panorama, Spinesafe, etc. Materials like knitted fabric, PU foam, foam, memory foam, etc. Spinesafe has 4 layers of different materials.
21. Wake-Up
Wake-up is a mattress brand in India that focuses on orthopedic mattresses. The company's name is Wakeup Innovations Pvt Ltd. Based in Gurgaon, it entered the world of mattresses in 2016.
Popular Products in the mattress segment are Wakeup Imperious Orthopedic Memory Foam Mattress, Wakeup Imperious Orthopedic Memory Foam Mattress, and Wakeup Smart Tech Pillow Top Hybrid Orthopedic Memory Foam and Pocket Spring Mattress. In addition, they offer other products like Esyrest Dual Comfort Mattress, Wakeup Riserox Pocket Spring Mattress, etc.
22. Boston
Boston is a trusted mattress brand in India that is synonymous with premium comfort for all. This company was founded 40 years back and is based in Noida, Uttar Pradesh. Sanjeev Gupta is the founder of the company.
They have four ranges of mattresses- Classic Series, Basic Series, Organic Series, and Hotel Comfort Series. Made of foam, natural latex, HR foam, memory foam, and spring, these mattresses provide firm, hard, soft, medium-hard, and medium-soft comfort levels.
23. Centuary Mattress
Centuary Mattress is a well-known mattress brand in India. The brand is promoted by Centuary Fibre Plates Pvt. Ltd. It was founded in 1988. It was the first mattress manufacturing company that received ISO 9001-2015 certification. Their head office is in Sangareddy, Telangana.
Their products are divided into several ranges- Sleepables collection, Wellness collection, Foamtastic collection, Hybrid collection, My power matt collection, Comfort collection, Baby and kids mattress, etc. These mattresses are made of coir, foam, memory foam, latex, Pocketed spring, spring, Bonnell spring, etc, and are available in single, double, king, queen, and S sizes.
24. DUROFEEL
DUROFEEL is a good mattress brand in India and their products are manufactured by DUROFEEL Homes India Pvt. Limited.
They produce a variety of mattresses like DUROFEEL Elite, DUROFEEL Three Fold mattresses, etc. Available in sizes single, double, king, and queen, they are made of High-Density foam, hard foam, PU foam, etc. The thickness of these mattresses is 4, 5, and 6 inches. They are available in different colors.
25. Epic Homes
Epic Home is a trusted mattress brand in India. The company was founded in 2005 and is based in Bengaluru. These mattresses are available online.
The company produces customized mattresses as per order. Noteworthy products of the company are, Nostalgia Orthopedic Memory Foam Mattress and Fusion Dual Comfort Mattress available in 4 sizes single, double, king, and queen. Thickness is 4, 5, and 6 inches.
More Best Brands in India
Choosing the perfect mattress is a significant decision that can greatly impact your sleep quality and overall comfort. With a myriad of options available in the market, it's important to consider certain factors before making a purchase. Here's a comprehensive buying guide to help you choose the ideal mattress for your needs:
How to Buy a Mattress – 10 Important Things to Consider
a) Determine Your Sleep Preferences
Consider your preferred sleep position (back, side, or stomach) and any specific needs you may have, such as back pain or allergies. Different mattress types offer varying levels of support and comfort, so understanding your sleep preferences will guide you in selecting the right one.
b) Understand Mattress Types
You need to familiarize yourself with the various mattress types that are available. These variations can be memory foam, latex, innerspring, hybrid, and air mattresses. It is obvious, that each type has its unique properties, such as contouring ability, responsiveness, and breathability. You must research in detail and compare the features of each type to determine which suits your requirements.
c) Evaluate Firmness Levels
Mattresses come in different firmness levels. It ranges from soft to firm. However, the ideal firmness level depends on your body weight, sleep position, and personal preference. It is observed, side sleepers often prefer medium to medium-soft mattresses. On the other hand, back and stomach sleepers may try for medium to medium-firm options.
d) Consider Motion Isolation
If you are planning to buy a bed that will be shared with a partner, consider a mattress with good motion isolation. This feature minimizes the transfer of motion. It thereby allows you to sleep undisturbed even if your partner moves or gets in and out of bed.
e) Support and Spinal Alignment
The proof of a good mattress is that it properly supports and promotes spinal alignment. You need to explore mattresses that evenly distribute your body weight and maintain the natural curve of your spine. This feature is particularly critical for individuals with back pain or orthopedic concerns.
f) Heat Regulation
If you tend to sleep hot or live in a warm climate, experts suggest mattresses with enhanced breathability and heat-dissipating properties. It is observed, generally, materials like gel-infused memory foam or latex offer better airflow, promoting a cooler and more comfortable sleep environment.
g) Edge Support
If you utilize the entire surface of your mattress or share the bed, good edge support is a necessity. As a matter of fact, a mattress with reinforced edges provides stability and prevents sagging when sitting or lying near the perimeter.
h) Consider Allergies
If you have allergies or sensitivities, you can go for hypoallergenic mattresses. They are generally resistant to dust mites, mold, and other allergens. Furthermore, it is seen, latex and memory foam mattresses are naturally antimicrobial and hypoallergenic. Hence they are more suitable for allergy sufferers.
i) Check the Trial Period and Warranty
You need to look for mattresses that come with a generous trial period. It allows you to test the mattress in your own home and return it if it does not meet your expectations. Additionally, check the warranty coverage. It ensures protection against manufacturing defects or premature sagging.
j) Track Customer Reviews
Before making a final decision, you must read customer reviews and ratings to gain insights into the mattress's durability, comfort, and overall customer satisfaction. Furthermore, honest user experiences can provide you with valuable information helping in the decision-making process.
Frequently Asked Questions (FAQs)
How often should I replace my mattress?
On average, it is recommended to replace your mattress every 7 to 10 years. However, this can vary depending on the mattress quality, usage, and individual factors such as body weight and sleep habits.
What is the difference between memory foam and latex mattresses?
Memory foam mattresses are known for their contouring ability and pressure relief, as they conform to the shape of your body. Latex mattresses, on the other hand, offer more bounce and responsiveness. They are also naturally hypoallergenic and provide good temperature regulation.
Are firm mattresses better for back pain?
While it is commonly believed that firm mattresses are best for back pain, the ideal mattress firmness for back pain varies from person to person. Some individuals may find relief with a firmer mattress. While others may prefer a medium-firm or softer option that offers better pressure relief.
Can I use any type of mattress on an adjustable bed frame?
As a matter of fact, not all mattresses are compatible with adjustable bed frames. It is seen, memory foam, latex, and air mattresses are usually more suitable for adjustable beds, as they can flex and contour to different positions. Also, innerspring mattresses may not be as flexible and could affect the performance of the adjustable bed.
How can I clean and maintain my mattress?
You need to regularly vacuum it to remove dust and debris to keep your mattress in good condition. Furthermore, one can spot clean stains with mild detergent and water, but avoid saturating the mattress. Additionally, using a mattress protector can also help prevent spills, stains, and dust mites.
Can I try a mattress before buying it?
Yes, it is advisable to try a mattress before making a purchase. You can visit physical stores or look for online brands that offer a generous trial period. As a result, it allows you to sleep on the mattress for a certain period and return it if you are not satisfied.
Are expensive mattresses always better?
No. In fact, price is not an indicator of quality when it comes to mattresses. Though expensive mattresses may offer additional features or luxury materials, however, it is essential to evaluate your specific needs and preferences. You will find many affordable mattresses that provide excellent comfort and support.
Can a mattress help with allergies?
Yes, certain mattress materials like latex and memory foam are naturally hypoallergenic. Hence, it is resistant to dust mites and mold. Additionally, using hypoallergenic mattress protectors and regularly cleaning your bedding can further minimize allergens.
Can I use a mattress topper to enhance comfort?
Yes, it is without saying, mattress toppers provide an extra layer of cushioning and comfort. They can be particularly beneficial if your mattress is too firm or lacks adequate pressure relief. You need to choose a topper that complements your existing mattress and addresses your specific comfort needs.
Do all mattresses come with a warranty?
Yes. You will get a warranty for a specified period covering manufacturing defects from branded mattress companies. However, it is obvious that warranty terms and coverage can vary between brands. You must read the warranty information carefully to understand what is included and whether there are any specific conditions or limitations.
Remember, if you have any specific questions or concerns, it's always best to reach out to the mattress manufacturer or retailer for personalized assistance and clarification.
Next What Business Research Team
The Editorial Staff at NextWhatBusiness is a team of Business Consultants having years of experience in small and medium-scale businesses.