Do you want to know the top pen companies in India? If yes, you are in the right place. Here in this article, we have listed the best pen brands in India catering successfully to Indian customers.
A pen is the single-most essential tool for documenting drafts, taking notes, and writing in examinations. The list goes on. It is almost impossible for students and professionals to carry out daily tasks without a pen. Furthermore, in childhood days, people find a lot of innovative ways to use pens like using them as straws, unlocking a bike, paper punches, etc.
There are many types of pens available in the market. It is generally advised by experts, students must start writing with ink pens and then use other types. The main reason is fountain pens that use ink to write help students in better grip and control over pens. Thereby helping them to write smoothly.
However, there are different types of pens that are available in the market. So, it is important to know the most popular categories of pens before buying one.
What are the Different Types of Pens?
Pens are categorized usually by their features, functions, or types. Below we list down some of the popular types of pens that are used extensively:
Fountain pens
Ink Pens
Ballpoint Pens
Brush Pens
Calligraphy Pens
Gel Pens
Marker Pens
Sketch Pens
List of Best Pen Brands in India
1. Reynolds
The company was established in the year 1945 by Milton Reynolds in New York, United States. Their first product was an iconic 045 writing pen that became an instant favorite among customers. A present Reynolds Pens is owned by US-BA-based Newell Brands. Reynolds started its India operations in the 80s and now is a household pen brand in India among students and professionals.
The company is a prominent player in pen segments like ball pens, gel pens, ink pens, marker pens, and roller pens in India.
Best-Sellling Reynolds Pens: Reynolds 045, Reynolds Jetter, Reynolds Mera Gel, Reynolds Trimax.
Check Latest Prices
2. Cello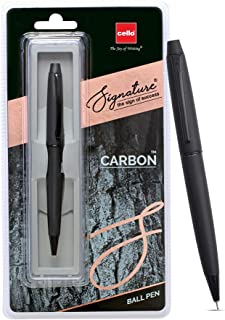 Cello® Pens is India's most-known stationery brand and one of the leading manufacturers of pens in India. The company was established in the year 1995. However, in the year 2015, reputed French stationery major BIC® acquired 100 percent ownership in Cello. Henceforth the company was rebranded as "BIC Cello (India).
They manufacture and market a wide range of pens in India like fountain pens, gel pens, ball pens, roller pens, and Pentek pens.
Best-Selling Cello pens: Cello Finegrip, Cello Butterflow, Cello Maxriter, Cello Technotip, and Cello Signature.
Check Latest Prices
 3. Parker
The Parker Pen Company was established in the year 1888 by George Shafford Parker. It is a globally-known French manufacturer of luxury writing pens. The company is known for new innovations. For most Indians, the first pen brand that comes to the customer's mind when buying a luxury pen is Parker. The best part about the company is that it provides manufacturing warranties for its products.
They manufacture and sell a wide range of fountain pens, ballpoint pens, inks, and refills. If you are looking to buy a mid-range luxury pen for around Rs. 500, Parker is surely a good choice.
Best-Selling Parker Pens: Parker Moments, Parker Jotter, Parker Classic, Parker Vector, Parker Latitude.
Check Latest Prices
4. Camlin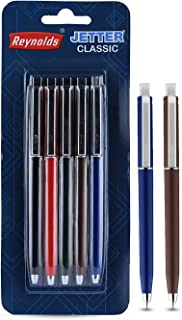 Camlin was established in the year 1931 and got incorporated as a private limited company in 1946. However, in May 2012, Kokuyo Co. Ltd, a reputed Japanese stationery company acquired a 50.74% stake in Camlin.
Camlin manufactures and sells more than 2000 varieties of stationery items in India. It includes ink pens, ball pens, fountain pens, highlighters, and brush pens.
Best-Selling Camlin Pens:  Camlin Kokuyo Trinity Fountain Pens, Camlin Elegante Pens, Camlin Sketch Pens, and Camlin Brush Pens.
Check Latest Prices
5. Waterman
The Waterman is a Paris-based French Pen Company. It was established in the year 1883 in New York City by Lewis Waterman. At present, Waterman is owned by the American group Newell Brands, through its subsidiary, Sanford L.P.
Apart from high-quality refills and inks, Waterman is a leading player in the luxury pen segment. It sells ink pens, ball pens, and roller pens, and their price starts from Rs. 3000 in India.
Best-Selling Waterman Pens: Waterman Hemisphere, Waterman Expert Mars, Waterman Expert Black, Waterman Carene.
Check Latest Prices
6. Linc
Linc Limited, established in 1976,  is one of the leading writing instrument manufacturing companies. Presently it is catering across the world and is present in over 50 countries across the globe. Furthermore, the company is an exclusive importer and distributor of Asia's biggest stationery giant, Deli, and world-famous pen brand Uni-ball, Mitsubishi Pencil Co., Japan in India.
In India, Linc is a popular pen brand in the gel pens category. It also sells inc pens, fountain pens, and ball pens.
Best-Selling Linc Pens: Linc Lazor Liner, Pentonic Linc,  Linc Gycer, Linc Ocean Classic.
Check Latest Prices
7. Pierre Cardin
If you are a fashion-conscious individual, it is almost a certainty that you are aware of the Paris-based iconic Fench Pierre Cardin fashion brand. In India, since 2012, Flair Writing Industries Limited is selling "Pierre Cardin" branded writing products.
If you are looking to buy quality pens in the price band of Rs. 100 to Rs. 300, Pierre Cardin offers a lot of good choices. Pierre Cardin primarily caters to the ball pen and roller pen segments in India.
Best-Selling Pens of Pierre Cardin: Pierre Cardin Monza, Pierre Cardin Noblesse, Pierre Cardin Golden Era, Pierre Cardin Century.
Check Latest Prices
8. Classmate
Classmate is a leading Indian brand of stationery products for students. This famous pen brand was established in the year 2003  and is owned and promoted by ITC Limited. Though initially started with selling notebooks, later the company added a wide variety of pens, pencils, mechanical pencils, and geometry boxes.
Classmate presently offers almost all types of pens to Indian audiences like ball pens, gel pens, ink pens, and roller pens.
Best Selling Pens of Classmate: Classmate Octane, Classmate ITC Fountain, Classmate Uvo, Classmate BFirst.
Check Latest Prices
9. Luxor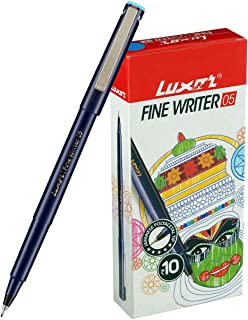 Luxor is a leading Indian manufacturer and exporter of Writing Instruments. It has 8 manufacturing facilities in India and exports writing stationery items to more than 80 countries worldwide. As a matter of fact, the company is credited to bring a lot of international pen brands to India like Parker, Waterman, Pilot, etc.
In India, Luxor's product range of pens includes ball pens, gel pens, markers, metal pens, etc.
Best-Selling Luxor Pens: Luxor Finewriter, Luxor Graphic, Luxor Sign, Luxor Gel One Ball.
Check Latest Prices
10. Montex
The company was established in the year 1976 in India and is one of the most trusted pen brands in the country. Presently, Montex has expanded its operation and is present and now has a global presence in more than 70 countries.
They sell high-quality ball Pens, retractable Pens, gel Pens, fountain Pens, and Refills to Indian customers.
Best-selling Montex pens: Montex Mega, Montex Winner,  Montex Regal, Montex Smooth.
Check Latest Prices
More Top Pen Companies in India
Flair
Nataraj
Rorito
DOMS
UniBall
Pilot
Cross
Bentley
Pentonic
Hayman
All the pen brands listed above are catering to customers in India successfully for years. Furthermore, these companies sell a wide range of pens in different price bands from economy to luxury.
More Best Brands in India
Frequently Asked Questions
Which is the No 1 pen in India?
There are a huge number of fine-quality pens available in different price ranges. If you are looking for affordable pens, Luxor and Cello are good options. On the other hand, go for Mont Blanc, and Sheaffer for luxurious pens.
Which Pen is good for Students?
It is advised, students should start with ink pens and then gradually switch to ball and gel pens. it is seen, ball pens are light and easier to write without much pressure on the fingers.
Next What Business Research Team
The Editorial Staff at NextWhatBusiness is a team of Business Consultants having years of experience in small and medium-scale businesses.