Do you want to start an ice cream cone making business? Are you searching for a detailed ice cream cone making a business plan sample? Find here a detailed guide on how to start an ice cream cone making business with small capital investment.
Any individual can initiate ice cream cone making business as a home-based and small scale basis. Ice cream cones of many varieties flavors and in different forms are served round the year and demand is going up year after year.
Read: How To Start Ice Cream Making Business
The most popular mode of serving is in cones as it is neat & clean, easy to store and there is no disposal need. With the continuous increase in the sale of ice-creams, demand for cones is increasing. It is a consumer durable item.
Ice cream cones generally come in different colours and flavours. Ice cream cones are not only convenient but there is no residual waste as well. The manufacturing process is simple and simple machinery is involved in manufacturing. An entrepreneur with proper planning can initiate this business with low startup capital investment.
Stepwise Guide to Start an Ice Cream Come Making Manufacturing Unit
1. Ice Cream Cone Market Statistics
As per Statista, the total revenue from the Ice Cream industry amounts to US$637m in 2019. The market is expected to grow annually by 8.2% (CAGR 2019-2023). The average per capita consumption stands at 0.2 kg in 2019.
This growth is ample proof that the ice cream cone making industry is also poised for huge growth.
2. Learn How to Make Ice Cream Cone
The first step to making an ice cream cone is to mix ingredients like dark brown sugar, caramel coloring, flour, vegetable oil and water in a vat.
Then a measured amount of the mixture is poured into the ice cream-making machine that has molds that are run by a conveyor belt. The belt carries the mold into a gas-heated oven. The oven converts the batter into a waffle.
Finally, when cooled, the wafer is then collected from the belt mechanically. The machine makes cones as per the mold they are baked in and ready cones come out of it. Then you can pack 50 or 100 cones in polyethylene pouch bag for bulk selling.
3. Ice Cream Cone Making Business Registration
In starting an ice cream cone making business you will need to register your firm first. Register your business with ROC (Register Of Companies). Obtain a Trade License and Pan Card. As an ice cream cone is a food item you will need to have a license from Food Safety and Standard Authority of India (FSSAI). Register your business as SSI Unit. Obtain GST Registration. You may also register your product brand name as Trade Mark.
4. Raw Material For Ice Cream Cone Making
The major raw materials are wheat and cornflour. Apart from these food colours and flavours are required. Additionally, you can procure these raw materials from the local wholesale market. You will need to have some packaging materials also. Generally, moisture-proof packaging is recommended for ice cream cone packaging.
5. Ice Cream Cone Making Machine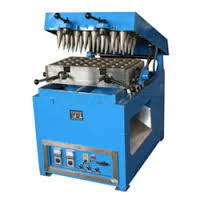 Automatic ice cream cone making machines are available in the market with varying capacities. However, you need to decide the capacity according to the size of the market and the required production output.
A machine with the capacity to produce 48,000 cones per shift of 8 hours or 144.00 lac cones per year considering 300 working days would cost Rs.2.00 lacs. These machines offer finished cones. First, it dispenses batter on the baking plates to prepare the wafer for shaping, then rolls them up, keep them in shape unload them finally. It is the main device of the production line.
Apart from this, you will need to have some stainless steel utensils, racks, weighing scale and sealing machine.