Do you want to start a coconut oil manufacturing business? If yes, you have landed at the right place. Here in this article, we will walk you through the important steps to start a coconut oil manufacturing plant business with costs. machines, licenses, and more/
Coconut palms can be found in the coastal areas of India. The dried kernel of coconut is popular as copra. This is an industrial term. Copra is the major commercial product of coconut. Copra normally has an oil content varying from 65 to 72 percent. There is another term is 'virgin coconut oil.' Basically, virgin coconut oil comes from the extraction of fresh coconut (not from copra). Here in this article, we intend to explore how to start a coconut oil manufacturing business from Copra.
There is another type of coconut oil, named RBD coconut oils. RBD stands for refined, bleached, and deodorized. The "bleaching" is generally not a chemical process, but rather a filter process to remove impurities. A "bleaching clay" is used for this filtering.
Here are the 10 Steps to Follow to Start Coconut Oil Manufacturing Plant
1. Research and Plan
First, identify whether you have an easy raw material sourcing system or not. At the plant location, you must have plenty of raw materials to get the viability of the project.
A small-scale coconut oil manufacturing plant demands at least 1000 SqFt of covered shade and 3000 SqFt of land area to get operated.
Suggested Read: Coconut Farming Business Guide for Beginners
You must have a business plan or project report in hand before initiating. a project report clearly demonstrates the manufacturing technology, machinery requirement, fixed capital investment, and working capital requirement.
2. Coconut Oil Manufacturing Business Registration & License
First of all, register your firm with ROC according to the ownership and liability pattern
Then, apply for Trade License from the local authority
Obtain Udyog Aadhaar MSME registration. You can apply online.
Additionally, obtain GST registration.
For large-scale operations, Factory License is a must.
Finally, apply for BIS Certification. For the different applications of coconut oil, there are different quality standards you must maintain.
3. Machines & Raw Material
The requirement for machines generally depends on different aspects. Such as the manufacturing process, the raw material used, the specification of the desired output, and the investment capacity of the owner. Here we have listed some of the common machines required for coconut oil manufacturing.
Copra Cutter
Bucket elevator
Steam jacketed kettle
Oil expeller
Screw conveyor
Crude coconut oil storage tanks
Filter press
Microfilter
Filtered oil storage tanks
Volumetric filling machine
Baby boiler
Wooden storage drums
Well-dried copra with a moisture content not exceeding 6% is the ideal raw material for coconut oil manufacturing. Actually, the quality of the coconut oil hugely depends on the quality of the copra.
Read: Best Profitable Coconut Business Ideas
4. Cost of Coconut Oil Manufacturing Unit
The major cost component in manufacturing coconut oil is plant machinery. For example, an automated 5-ton/day capacity plant machine will cost you in the range of Rs 25 Lacs to Rs 30 Lacs per unit. Overall, the total cost of starting small-scale coconut oil manufacturing will be around Rs. 40 Lacs to 50 Lacs.
5. Arrange Funds
If you do not have sufficient funding sources, it is advisable to approach banks and other financial lenders. Do keep your business project plan ready as all types of investors will have a first look at this document before taking any funding decision. Also, do not forget to apply for a credit card to meet small-time business expenses.
6. Location and Infrastructure
Choose a suitable location with easy access to coconuts and transportation. Set up the manufacturing unit with the required machinery and equipment.
7. Coconut Oil Manufacturing Process
Coconut oil can be made both manually and by machine in a manufacturing unit. The manual production process is simple. It includes broadly 5 steps as listed below:
Collecting Coconuts
Breaking the Coconuts
Grating the Coconut Meat
Soaking the Coconut Meat
Extracting the Oil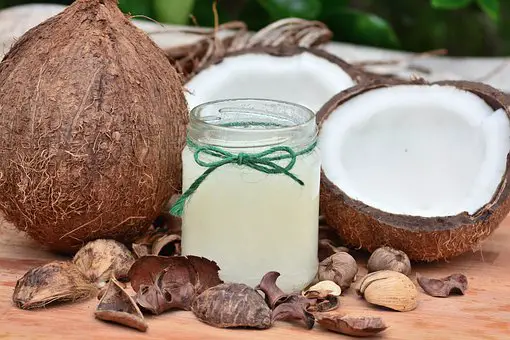 However, if you are planning to produce coconut oil commercially, the steps to be followed are mentioned below:
Step 1: Dried copra cut into small chips in a copra cutter.
Step 2: Then, feed the chips into steam-jacketed kettles and cook. It cooked mildly at a temperature of 70oC for 30 minutes.
Step 3: After proper cooking, feed the cooked material into the expeller continuously and press twice. Then, collect the combined oil from the first and the second pressing in a tank provided separately.
Step 4: Finally, filter this oil by means of a filter press and store it in MS tanks.
Step 5: Generally, you can pack the item in bulk packaging them in containers. Additionally, you can use HDPE containers and polymeric nylon barrier pouches for small consumer packing.
You will find oil cake as a by-product. the product has a ready market as a cattle feed and in the manufacture of mixed cattle feeds. You can use the product as the raw material of coconut oil manufacturing for the extraction of remaining oil by solvent extraction method.
Read: Best Coconut Scrapers
8. Hiring and Training
You will need to hire skilled staff for oil extraction, quality control, and packaging. Additionally, provide necessary training on production processes and safety guidelines.
9. Quality Control and Packaging
Implement quality control measures to ensure the purity and freshness of coconut oil. Choose appropriate packaging options (bottles, jars, pouches) and design labels.
10. Distribution and Marketing
You need to identify potential distribution channels such as local markets, retailers, or online platforms. In addition, develop a marketing strategy to promote your coconut oil brand.
Frequently Asked Questions
What are the benefits of coconut oil?
Coconut oil is known for its moisturizing properties for hair and skin, as well as its use in cooking and as a natural health remedy.
Is coconut oil manufacturing a profitable business?
Yes, with increasing consumer awareness about the benefits of coconut oil, it can be a profitable venture. Coconut oil is an important cooking medium in Southern parts of the country, especially in Kerala and Karnataka State. Besides, oil has varied industrial applications. It is used in the manufacture of toilet soaps, laundry soaps, surface active agents and detergents, hair tonics, hair oil, massage oil, cosmetics, etc.
What is the shelf life of coconut oil?
Properly stored, coconut oil can have a shelf life of up to two years or more.
Can I start a coconut oil manufacturing business from home?
While it is possible, a dedicated manufacturing unit is recommended for efficient production and quality control.
Are there any specific quality standards for coconut oil manufacturing?
Yes, coconut oil must adhere to FSSAI quality and safety standards.
How do I market my coconut oil brand?
Utilize social media, online platforms, and local promotions to create brand awareness.
Next What Business Research Team
The Editorial Staff at NextWhatBusiness is a team of Business Consultants having years of experience in small and medium-scale businesses.