Are you looking for the best watch brands in India that are dominating the online market? Here in this article, we list down the best watch manufacturing and marketing companies operating successfully on the internet.
Watches make one of their favorite accessories for looking good and exuding style on all occasions.
As a result, several hot-selling brands are ruling the Indian men's watch market. Some of them are luxury brands with big international names and offer high-end watches that you can boast about.
At the same time, there are some domestic watch brands that offer quality watches at affordable prices. There are so many brands and varying styles of watches that you can choose from.
Moreover, the topmost features are available and include scratch resistance functions, a timer, and waterproof as well as changeable band options.
All that said let us dive right in and see what's in store.
List of Best 10 Watch Brands in India for Men and Women
1. Titan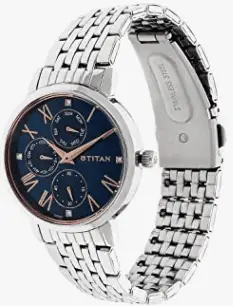 Titan is the leading Indian watch brand that caters to the need of men looking for high-quality, yet affordably priced watches.
Be it your 18th birthday gift or wedding reception gift, Titan watches are the most loved brand in India.
Titan has more than 300 retail centers all over the country. It is a trusted brand, which dates back to 1984 when it was launched by the collaboration of Tata Group and Tamil Nadu Industrial Development Corporation.
A  huge number of buying options makes it the fifth-largest watch manufacturing company in the world.
Suggested Read: Best Watches For Women Under 2,000.
Titan manufactures models that are very famous and admired across India like Aqura, Diva, Insignia, Raga, and Octane among others. And each year, many new launches join the high-end collection of the brand.
The price of Titan Watches Starts from Rs. 1195
Check the Latest Collection of Titan Watches for Men HERE and for Women HERE.
2. Casio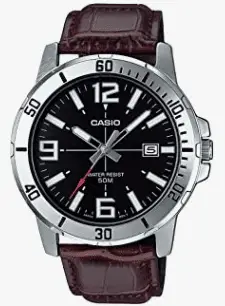 Coming in second on our list of Best Watch Brands in India is Casio. Casio has been a popular and loved brand for ages.
It is a Japanese company that manufactures various electronic products, but the craze for Casio watches is more than the other products.
Casio Support, G Shock, Wave Captor, Sheen, and Edifice are some watch brands from Casio. They stand for innovation and style.
The brand also offers innovative concepts of connecting your smartphone with the watch, also Casio was the first company to launch a GPS atomic solar watch.
They are most popular amongst the younger generation for their digital watches.
Hence if you are looking for Casio watches you would definitely find an amalgam of style and technology.
The price of Casio Watches starts from Rs. 895.
Check Latest Casio Watch Collection HERE.
3. Timex
Third, on our list of the Best Watch Brands in India is Timex. Timex is one of the largest watchmakers in the world. They are an international brand that was established in 1854 and it has made a big in the Indian men's watches segment too.
It is famous for its digital watches in India. It offers quality products to its customers across large and different watches for everyone.
The product range of Timex is innovative as it boasts of designer look along with the latest technology.
The other popular brands of Timex are Helix, Versace, Salvatore Ferragamo.
Owning a Timex watch is a matter of pride for Indian men today and for this reason, it happens to be one of the best-selling brands in the country.
The price of the Timex watches starts from Rs. 600.
Check the Latest Collection of Timex Watches HERE.
4. Citizen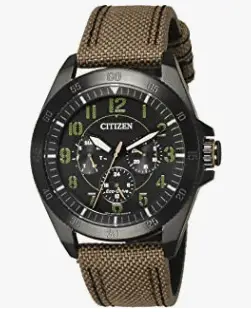 Coming in at the fourth spot on our list of the Best Watch Brands in India is Citizen. It is one of the most beloved watch brands in India.
It also holds a prominent place as one of the leading producers of advanced technology. Citizen watches include the slimmest LCD timepiece as well as the first watch with voice recognition and the very first timepiece for diving with an electronic depth sensor.
Each watch is a masterpiece and is a perfect blend of beauty and technology. Add a powerful look with the Citizen watch and be ready to attract everyone's attention.
Citizen Eco-drive Satellite f100 can give you satellite time no matter what time zone you are in and it takes merely three seconds to do that.
The price of Citizen Watches starts from 830.
Check the Latest Collection of Citizen Watches HERE.
5. Fastrack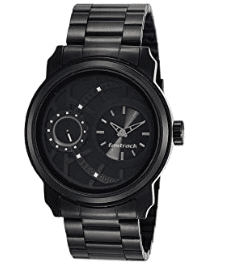 Fastrack is positioned fifth as the Best Watch Brand in India. They are a youth-oriented brand introduced by Titan and it has carved a niche for itself in the Indian market.
It quickly became India's largest watch brand for the urban youth. The technology and design are best suited for collegians that want funky style with the promise of quality and precision and affordable price.
It brings fashionable watches for men, with a huge variety in terms of color and design as the main target customer base of this brand is the young population.
The price of Fastrack Watches starts from Rs. 780.
Check the Latest Collection of Fastrack Watches HERE.
6. Omega
Coming in at number 6 on our Best Watch Brands in India is Omega. They are best recognized as the leading producer of sports watches on a global level.
They are also much loved by the Indian Audience and are regarded for their luxury watches. People who own an Omega tend not to divert from this brand in the future.
It is one of the oldest brands in the world, which was introduced in 1848
They are most of all revered for their cutting-edge technology, which gives them high precision.
The James Bond franchise has used Omega watches in many of its movies and thus, the franchise has earned much of the fame it enjoys today.
If the price is no issue, men can pick amongst the variants like Speedmaster, Deville, Constellation, and Seamaster.
The price of Omega Watches starts from Rs. 1 Lac.
Check the Latest Collection of Omega Watches from Offline Stores HERE.
7. Rolex
Featuring next on the list of Best Watch Brands in India is Rolex, a brand with an international fan following.
Rolex is a Swiss luxury watchmaker. They offer a wide range of luxury watch brands ranging from professional to classic models.
Rolex was established in 1946 as Tudor and has been ruling the hearts of discerning watch lovers around the world since then. It is available in three lines, namely Professional, Oyster Perpetual, and Cellini.
It is a dream watch for most Indians and people around the world. Rolex is not the best-selling brand in India for the sole reason that it is not affordable for most people.
Rolex watches are currently not available online in reputed online marketplaces. You need to visit a Rolex watch store nearby to buy one. Visit the official site of Rolex and find the watch store.
8. Maxima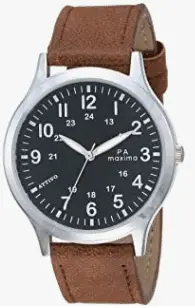 Eight in our list of the Best Watch Brands in India arrives Maxima. They produce designer formal watches for both men and women. There is also a special couple of collections. This is the reason why couples prefer Maxima when it comes to gifting a beautiful present to their beloved.
Maxima provides the best of its variants between the price slabs of Rs. 300 and Rs. 4,000. Apart from a couple of watches, Maxima offers affordable watches specifically for men, women, and children along with a special series of Uber watches.
You can find these watches in almost any watch store in India and also on the internet.
The price of Maxima Watches starts from 300.
Check the Latest Collection of Maxima Watches HERE.
9. Sonata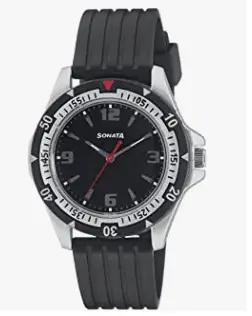 Coming in ninth in our list of the Best Watch Brands in India is the evergreen Sonata. They have been one of the most favorite brands when it comes to watches.
They make admirable and lovely watches that are loved by every Indian person. Sonata watches have a unique elegance and beauty that makes people buy them.
It caters to the people of every generation. The best part of buying sonata watches is that they produce watches that will suit any occasion as well as festivals and they all have a thematic grace. The most favorite variant of this brand is the youth-centric Super Fibre Watch.
The price of Sonata Watches starts from Rs. 450.
Check the Latest Collection of  Sonata Watches HERE.
10. Tommy Hilfiger
Last but not certainly not least on our list of the Best Watch Brands in India arrives Tommy Hilfiger.
They are one of the world's leading designer watch brands. It is internationally recognized for celebrating the essence of classic American cool style.
From elegant to sporty looks, Tommy Hilfiger manufactures unique styles of timepieces that would instantly glam up the wrist of the wearer.
Tommy Hilfiger is a hot favorite among the youth as it signifies trendiness and cool fashion.
Even the straps come in bold, vibrant colors as well as in a classic metallic finish. These watches are designed for men, women, and unisex segments where you can feel the class as well as comfort when you are wearing them.
The price of Tommy Hilfiger Watches starts from Rs. 450.
Check the Latest Collection of Tommy Hilfiger Watches HERE.
How to Buy a Watch – Buying Guide
Here are the 5 things to consider before buying a watch.
1. Identify Your Watch Size
All watch faces are measured in millimeters. A watch face ideally should be big enough to sit on your wrist comfortably with a bit of its space occupied by where the band begins.
Most people will find that the face of a watch that fits them well ranges between 34mm-50mm. Moreover, picking the best watch that will fit you comfortably depends on the size of your wrist.
2. Watch Face
After you have picked the right side of the watch you want, determining the face of the watch is another key point that most individuals miss.
Think about how you want your new timepiece to look and narrow down on that while selecting the watch face that you will purchase. The main factor in determining the size of the watch you want is the face for your information.
3. Check the Strap
Watches are available in different tons of straps at your disposal and it allows swapping yours out flexibly.
The most common casual straps are the NATO straps and they are named so after the nylon versatile styles used by the armed forces as a sign of different countries.
4. Watch Movement
A watch movement is a mechanism that you can use to tell the time in reference to other things that the watch tells like a year, and the date and some even tell you, the lunar phase.
It is easy to be swallowed up by the graphical literature but in a nutshell, all watches are grouped according to their movements and functionality.
5. Analyze the Price of the Watch
After you have already got the basics, you will have to decide how much you are willing to drop for a new watch.
Of course, the pricing of watches ranges from relatively affordable, to expensive, to very expensive and so it's important to figure out the money you are willing to spend before you shop.
After taking in the above, you should have a better idea of what makes a great watch and why some watches command such status, respect – and price tags!
More importantly, you'll soon be able to justify, to yourself at least why you spent all that money on that chunk of metal, glass, and leather proudly sitting on your wrist.
Conclusion
Above was our take on the Best Watch Brands in India. Just remember that watches serve as a chosen accessory for most outfits.
As we've seen above – there are a variety of watches available. Although some watches are versatile and work with several outfits, some work with fewer options.
Dress watches: Look best when worn with professional attire.
Plastic, casual watches: Versatile and can be accessorized with business casual outfits as well as weekend casual attire.
You can team up your watch with your wallet to transform yourself into a complete style icon.
Having a good watch on your wrist can give you a boost in confidence. But it can only do so if you choose the brand that suits your style and personality the best.
We hope this list of the Best Watch Brands in India helped you in choosing the perfect companion.
Editorial Staff at NextWhatBusiness is a team of Business Consultants having years of experience in small and medium scale businesses.