Do you want to start a banana wafer making unit in small scale? If so, read this detailed business plan guide on starting a banana wafer making unit with low investment.
Banana is one of the most profitable cash crops in India. It is grown widely across the country in about 4.83 lakh hectares of land with a production of about 16.17 million MT.
In addition, people consume it in several varieties of preparations and forms. The major share of banana production in the country is consumed in the fresh form. Banana is highly perishable in nature. However, you can preserve it by processing to produce banana pulp, banana chips, banana powder etc.
Starting Banana Wafer Making – Steps to Follow
The banana wafer is an innovative product. It is a thin slice of banana that is deep fried until crunchy. Banana chips are commonly served as an appetizer, side dish, or snack. Basically, the chips are cooked and salted. Additionally, you can produce different varieties using various flavorings and ingredients including seasonings, herbs, spices, cheeses, and artificial additives.
1. Market Opportunities For Banana Wafer Making Business
The processed food industry ranks fifth in size in the country, accounting for 14 % of the total industrial output and 6.5 % of GDP. There exists a very large market for chips and they can be sold at various retail outlets, pawn shops, bus stands, railway stations, roadside eateries, etc.
There also exists an institutional market consisting of clubs and other institutions, school & college canteens, army establishments, bars & pubs, railway, and airlines caterers, etc. Additionally, good quality banana wafers have also the export potential. Also, the Govt. of India has allowed a tax holiday for five years for the food processing industry.
2. Banana Wafer Making Business Registration & License
You will need to apply for registrations and licenses from concerned authorities.
First of all, register your business with ROC. For a Micro and small unit, you can register proprietorship firm. However, if you are starting on a larget scale, LLP and Pvt. Ltd. options are recommended.
Additionally, obtain Trade License from Municipal Authority
Register with Udyog Aadhaar MSME. This is optional. However, it will help you in getting different Govt. subsidies and grants.
Also, Apply for GST Registration
Compliance with the FPO Act is mandatory.
Apply for Food Business Operator License. It is mandatory for packaged food processing and selling in India.
Finally, obtain a Factory License.
3. Banana Wafer Making Machine & Unit Setup
Any individual can initiate a small and medium scale banana wafer making unit as the semi-automatic basis. To produce, 50 tons of banana chips every year with the working of two shifts and 300 working days, you will need to have the following machinery.
Slicer made of SS with attachments and electric motor
Electrically-operated dryer with trolleys and 96 trays
Oil sieve
Automatic Sealing Machine
Coal-fired Furnace
Cutting and peeling knives, aluminum utensils, weighing scale, etc.
DG set
First of all, you must select a well-drained site with good connectivity with the roads. It should be preferably in a raw material production area or at the consumption center. Additionally, you must keep the hygienic condition of the surroundings while selecting the site. Water and power in sufficient quantities and qualities must be available.
You can also establish the fully-automatic banana chips or banana wafer making unit. It will save manpower cost. However, a huge amount of production is also possible with this type of unit.
Related: 10 Things To Consider In Starting Product Based Business
4. Banana Wafer Making Raw Materials
Varieties of Banana suitable for chips manufacturing are Nendran, Cavendish, and Pachabale.  Other materials required are salt, edible oil, spices, and flavors. But their quantities shall be very small. Printed polyethylene bags and corrugated or cardboard boxes would form the packing materials.
5. Banana Wafer Making Process Flowchart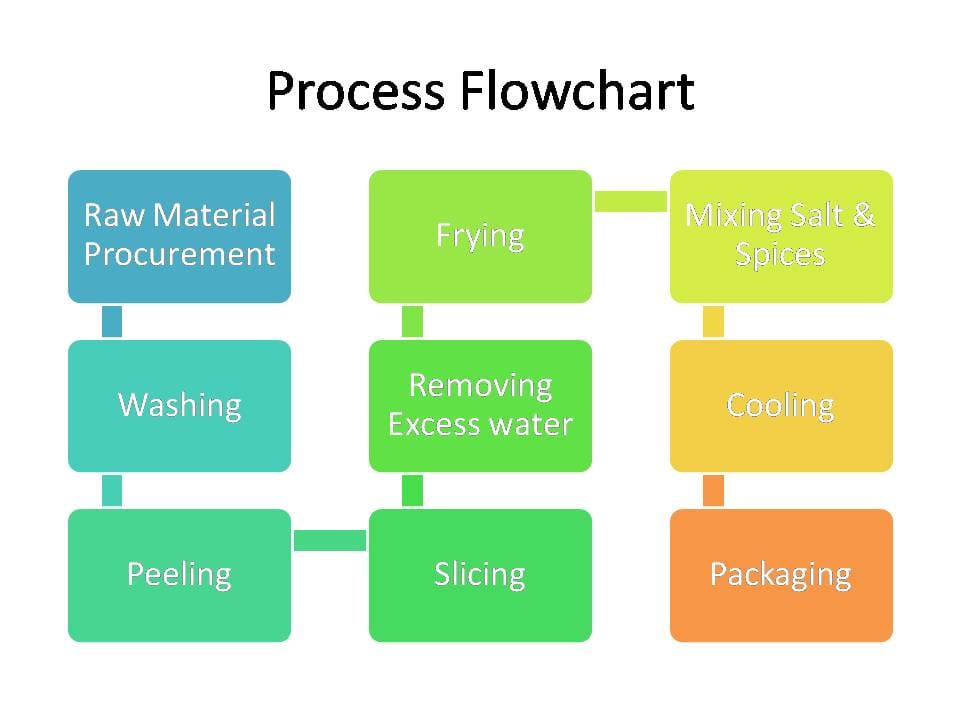 Banana wafer making process is simple.  It involves visual inspection and sorting of damaged bananas and washing them in water. Then do peeling and trimming before slicing or cutting them to the required size. Additionally, wash and dry them once again. Then fry them and mix either salt or other spices/flavors homogeneously.
After cooling them, pack the wafers in pouches or plastic bags. In banana wafer making, the organic wastes like banana peels etc. are decomposable and biodegradable.
6. Banana Wafer Manufacturing Project Cost:
The banana wafer manufacturing cost will depend mainly on the cost of the machine and the production output.
If we choose a machine which can deliver 100 kg of banana wafer per day, the approximate cost of a wafer manufacturing machine will be around 3 Lac Rupees and onwards. The overall investment will be around 15 Lacs out of which working capital stands at 8 Lacs.
In this scenario, the break-even point turns around 47.77 %
This is a sample estimated banana wafer manufacturing project cost. It is subject to deviate on change of any of the assumptions. You can modify the project capacity and project cost as per your requirement.
Banana wafer making is a profitable business. Along with it, you can also run potato chips making units also.
Recommended Tools for Startups
Editorial Staff at NextWhatBusiness is a team of Business Consultants having years of experience in small and medium scale businesses.