Agarbatti is a popular household item having great market potential. The burning of Agarbatti or incense in religious and social functions has been practiced since early times. Here in this article, find a complete plan guide to starting an Agarbatti manufacturing business with the manufacturing process, machines, cost, licenses, and much more.
Agarbatti an aromatic powder or paste is burnt in homes as a fragrant fumigant and is reputed to possess insecticidal and antiseptic properties. The burning time of an Agarbatti varies from 15 minutes to 3 hours according to quality and size.
You can initiate an incense or an Agarbatti manufacturing business from home or as a small-scale manufacturing unit.
Is Agarbatti Making Business Profitable?
Agarbattis are used by all communities in India, Sri Lanka, and Burma, and by Asians residing abroad. As of today, about 90 foreign countries are using Agarbattis. There is demand for incense sticks all throughout the year and it increases during festive seasons.
Agarbatti or incense manufacturing is recognized as an export-oriented industry. In fact, this is one of the items considered for boosting exports. Owing to the low level of technology involved in this industry, Agarbatti or incense stick manufacturing business can be initiated with simple machinery and moderate capital investment.
Here are the 7 Steps to Start Agarbatti Manufacturing Business
1. Research the Market
The first step before actually launching an incense stick manufacturing business is to do market research. Gather information about the local competition, pricing, market volume, etc, and understand the scope and opportunities. Based on the collected information, create a business plan that explores the market gaps to your advantage.
2. Create a Business Plan
The next step is to write a business plan for your upcoming Agarbatti business. If you are looking for funds, it is advised to hire a competent business plan writer. Some of the chapters your project report must include are the following:
Market Details
Cost Calculations
Expense Heads
Pricing
Manpower Plan
How do you plan to sell Agarbattis?
3. Make your Agarbatti Business Legally Compliant
In starting an Agarbatti-making business, you will need to register your business first with ROC (Register of Companies). If you are starting with low capital, begin as a proprietor, OPC, or LLP. However, if you want to start big and look for funding, it is better to opt for a private limited company as it will provide investors confidence and also get other necessary licenses and permits easily.
Apply for Trade License from the local authority. Obtain Business Pan Card.
Additionally, apply for MSME Udyog Aadhaar online registration. You also need to apply for the 'Consent to Establish' from the Pollution Control Board. Obtain the GST registration as soon as possible.
When you get all the required licenses, open a current business bank account.
4. Raw Material for Agarbatti Making
The major raw materials for Agarbatti are bamboo sticks and different powders. According to the size, you will need to purchase sticks. Also, you can produce sticks in your works by having a sticks-making machine. Other materials are Charcoal dust, Jigat Powder, Nargis Powder, Wood Incense Powder, Joss Powder, and several essential oils.
According to the fragrance, you need to select the right formula. Pay attention to the packaging. A fragrance lock packaging system is important in Agarbatti making. Find the list of raw materials needs to make Agarbatti or incense sticks:
Bamboo sticks
Paper
Charcoal
Gum powder
Saw dust
Different types of p0wder
Perfumes
Fragrance
Packing materials
5. Agarbatti Making Machinery
According to the desired output entrepreneurs need to select the right machinery for Agarbatti making business. As far as the project feasibility is concerned, selecting the right machinery is one of the most vital deciding factors. Agarbatti making business is profitable and several different types of machinery are available in the market.
Broadly there three types of Agarbatti-making manufacturing machines are available. These are Manual, Automatic, and High-speed automatic Agarbatti-making machines. Apart from these, you can also consider purchasing an Agarbatti raw material mixer machine and drying machine to get better production output.
a) Manual Agarbatti Making Machines
Manual Agarbatti manufacturing machine (Single and double Pedal Type), is a very easy operating machine with high production, low price, durable, and Improved quality, which has no power required. These are easy to maintain at a very affordable price. You can make a higher volume of production and fine-quality Agarbatti from these machines.
b) Automatic Agarbatti Manufacturing Machine
To get more uniform production with a high volume output automatic machine is a perfect choice. These machines are available in attractive patterns, designs, and sizes as per the exact requirements.
With this type of machine, you will get a production output of 150-180 sticks/minute. Round and square are both types of sticks that can be used. Generally, these machines run on electricity. And this type of machine demands a dedicated individual to continuously feed the machine with bamboo sticks.
c) High-Speed Automatic Agarbatti Manufacturing Machine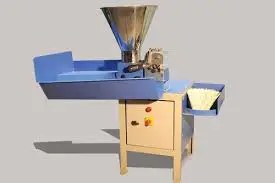 You will find different types of fully automatic machines that required less manpower to operate. With these types of machines, you will get the desired output with minimum labor engagement. These machines generally produce 300 – 450 sticks per-minute production. You will also adjust the length from 8″ to 12″.
Generally, this type of machine runs automatically without any dedicated manpower engagement. Therefore, one individual can run at least 3 machines at a time.
d) Drying Machine For Agarbatti Making
Different types of Agarbatti drying machines with different models are available. It hardly costs Rupees 4-5/ kg when drying machines are used in commercial production. You will get a production output of 160 kgs / 8 Hours.
e) Powder Mixer Machine For Agarbatti Making
In starting a commercial large-scale Agarbatti-making project you can consider having a powder mixer or blender machine to get uniform mixing quality with less labor input. These machines are normally well capable of mixing up two types of powders that can be both wet and dry powder. These machines are generally custom made available in various sizes, shapes, and capacities. Production capacity normally varies from 10kg-20kg/10min.
6. Agarbatti Making Manufacturing Process 
Mainly two types of Agarbatti are commercially manufactured. One is perfumed Agarbatti and the other is masala Agarbatti. In manufacturing perfumed Agarbattis powders of charcoal, Gigatu, White chips, etc. are mixed with water to have a semi-solid paste. This composition is taken on a wooden plank and applied to sticks by rolling with hands or with an automatic incense stick-making machine.
Finally, the raw sticks are dipped in a suitable perfumery compound diluted with white oil or other solvents like diethyl phthalate (D.E.P.) and dried and packed.
7. Cost of Agarbatti Making Business
The cost of starting an Agarbatti Business will mainly depend on the type of machine used for production. However, an approximate cost t start an Agarbatti manufacturing unit with an automatic machine on small scale will require a minimum investment of Rs 1 Lacs to Rs 5 Lacs.
8. Arrange Funds
If you do not have the required funds, it is essential to arrange funds to start and run the agarbatti manufacturing business. You can approach banks and financial institutions and ask for funding. There are some legitimate instant loan apps one can install to get startup and recurring loans.
Also, do not forget to apply for a credit card to meet regular emergency expenses.
Read: Best Credit Cards in India
9. Hire Manpower
There will be a requirement for skilled manpower to run an Agarbatti manufacturing business. Some of the key personnel you need to hire are the following:
Production Manager
Skilled and Unskilled Factory Staff
Accountant
Office Staffs
Delivery Boys
Marketing Staff
10. How to Sell Agarbattis
If you are a beginner entering newly into the market with a small promotional budget, concentrate on selling Agarbatti items in your nearby locality. you could sell Agarbattis at a local level.
Find a location nearer to a temple or a religious place and set up temporary kiosks. Fix banners and distribute fliers and sell them from the stall. You can also sell your items online on marketplaces like Amazon. You can also cater to a wider audience by creating an online store and selling online.
Next What Business Research Team
The Editorial Staff at NextWhatBusiness is a team of Business Consultants having years of experience in small and medium-scale businesses.