It is without saying, cooking oil is the most vital and basic ingredient in any preparation. Whether it is a serving of starters or the main course, oil is used for cooking and adding flavor to the food.
The demand for healthy cooking oil is increasing, thanks to growing health concerns among most people in the country.
To address your concern, we have compiled together the healthiest and most trustworthy brands to make up a Top 10 Best Cooking oil brands list.
Our Best Cooking Oil Picks:
List of 10 Best Cooking Edible Oil Brands in India
1. Sundrop
Sundrop is a part of the Indian cooking oil market for almost 2 decades. The range of Sundrop includes, Superlite advanced, Heart, Nutrilite, Nutrifit, Glodlite, Lite, and Superlite oil are the most of the variety in the market.
The brand was first introduced in 1989 in India and it is a sub-brand of the famous Agro Tech Food Limited.
This brand can be seen all over the country and people have grown to trust the name thanks to its quality products and health campaigns.
2. Fortune 
Fortune is another great cooking oil and it is loaded with a richness of omega-3 fatty acids. Omega 3 fatty acid is extremely beneficial for our health and is also important in the cure and prevention of Crohn's Disease and colitis.
Fortune is also one of the oldest brands of edible oil in India.
They also not just make cooking oil but also mustard oil, Soybean oil, Rice bran oil, etc.
The company offers an affordably priced product and caters to upper and middle–class people with their healthy choices of oil.
3. Saffola 
Saffola is one of the most popular dairy firms in India. The brand uses a low absorb technology, which minimizes the oil absorption in your food, turning it healthier and more consumable.
Their oils are generally costlier than the others on this list but also one of the healthiest.
It also contains vitamins, oryzanol, and other ingredients that help keep you healthy and strong. Some of Dhara oil's other variants include mustard oil, soyabean oil, and groundnut oil.
4. Dhara 
Dhara is the 4th company to make it to this list of the best cooking oil brands in India. As we all know Dhara is a household name and can be found in most supermarkets and groceries near you.
Over the years the company has gained tremendous goodwill and trust in the Indian population.
They pride themselves on hiring villagers in their workforce and hence giving them a chance at a better livelihood.
The company has over 20 manufacturing plants in the country, which are growing swiftly. The company made revenue of over Rs 35,000 crore in 2015-16 alone.
5. Patanjali Cooking Oil
Established in 2006 in a village near Gujrat, Patanjali Ayurved has been selling different kinds of edible oils. This Indian conglomerate is now based in Haridwar in India.
Some of the varieties that this popular cooking oil brand offers include mustard oil, sunflower oil, groundnut oil, soybean oil, etc.
The company has built a strong distributing network, which includes more than 1500 distributors in India. Some of Vimal oil's variants comprise filtered groundnut oil, refined soybean oil, and refined sunflower oil.
6. Engine Cooking Oil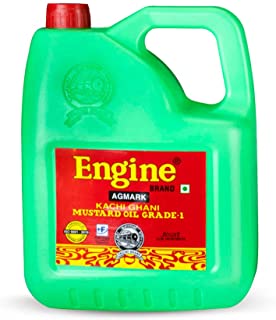 Coming in on the sixth spot In this list of the Best Cooking oil brands is Engine. This is one of the oldest and most famous cooking oil brands in India. They have been around for decades and generations after generations have used this product.
The brand gives you a wide range of choices in terms of cooking oils. So you could have everything from mustard oil, sesame oil, groundnut oil, and even soybean oil in this category. The most popular is the Engine Kachi Ghani mustard oil.
7. Figaro Olive Oil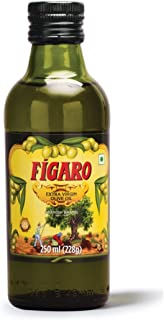 Nutrela is another edible oil that has been doing great business in the last few years. The company has been doing exceptionally well and selling a lot of olive oil products thanks to its online presence.
On online marketplaces like Amazon and mobile apps such as Big Basket and Groffers, Nutrela has the highest rating for the olive oil category.
If you are looking to buy olive oil for your cooking needs go for Figaro olive oil.
8. Jivo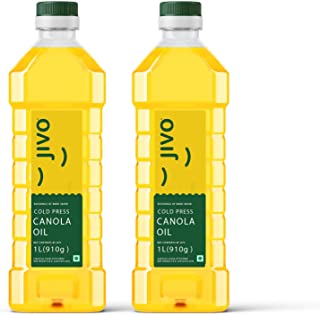 Jivo is owned by Jivo Wellness baes in New Delhi and has started doing business in India relatively late.
Canola oil is presently a preferred choice for cooking by a considerable section of the population. This is considered an expensive but healthy cooking oil.
In addition, the company also manufactures The brand produces Sunflower oil, olive oil, and mustard oil. However, if you are looking for canola oil for cooking, Jivo can be a good choice.
9. Emami 
Emami is a new competitor in the Indian Cooking oil market but is fast catching up with its competitive pricing. The brand is selling in large numbers in the major supermarket due to its one-plus-one free offers and heavy discounts.
They are also a very healthy option to choose from because their refined soybean oil promises to offer 60% of PUFA (Poly Unsaturated Fatty Acids). This helps promote a strong health and helps in maintaining the cholesterol level in the body.
10. Natureland Organics

Coming in at the last spot in this list of the Top 10 Best Cooking oil brands is Natureland. The company Natureland Organics was launched in the year 2002 and fast expanded its operations in the country.
Their cooking oil offers multiple varieties of cooking oils for its consumers like Soybean oil, Olive oil, Sunflower oil, Groundnut oil, and some others. Their cold-pressed sunflower oil product is widely accepted by Indian customers.
Conclusion
The list above consists of brands that promote good health, are low in fat, and cholesterol, and protects from heart diseases.
As we already said oil is a necessity, which can't be eliminated, especially from an Indian kitchen. So, it is of utmost importance that the oil you put in your food is of good quality and trustworthy.
Also Check:
Frequently Asked Questions
What are the types of Cooking Oil?
There are various kinds of cooking or edible oil that are popular in India. some of the popular ones are listed below:
Mustard Oil
Sunflower Oil
Groundnut Oil
Rice Bran Oil
Olive Oil
Canola Oil
Sesame Oil
Coconut Oil
Soybean Oil
What is the best cooking oil in India?
It depends on the type of oil you are looking for. However, the three most popular cooking oil companies in India at present are Fortune, Saffola, and Dhara.
Editorial Staff at NextWhatBusiness is a team of Business Consultants having years of experience in small and medium scale businesses.