If you want to start a mug printing business, the most important and vital tool is the mug printing machine. However, it is difficult for a beginner to choose the right one for their mug printing venture. Here in this article, our team of experts has researched in-depth and listed down the top 10 mug printing businesses with a small budget.
Are you in a hurry to know our best pick? The best mug printing machine for most people at present is the  MY PRINT mug printing machine.
The mug printing business can be started by anyone from home with a small budget. There is a wide market for buying printed mugs nowadays. With a mug printing machine, you can make designer mugs, promotional products, advertisement gifts, and souvenirs for companies.
Other than household customers, printed mugs have a big market in the corporate gift industry. Without much ado, let's find out the top mug printing machines available online with a small budget.
List of the 5 Mug Printing Machines in India
1. MY PRINT
MY PRINT Mug Press machine is our top pick if you want to start a mug printing business on a small scale from home. This machine is very user-friendly and can be used for both commercial and family use.
It will be sent in a fully assembled model and do not need to do it yourself. Along with mugs, this highly-rated machine can print designs for t-shirts, and other flat items.
The machine comes packed with a dual digital LCD display, temperature control box, digital LCD timer, adjustable tension screw, coated handle, and rigid steel frame.
Specifications:
Material: Iron
PColour: Black
Voltage: AC 220-240V
Power: 350W
Temperature range: 200 – 400°F
Weight_ 2.1 kg
Buy From Amazon
2. JD9 Heat Press 5 in 1
This is one of the most popular press machines in the market. This 5 IN 1 machine packs with 1 pc Fully-assembled machine with platen press, 1pc Hat press, 1 pc Mug presses, and 2 Pcs Plate presses.
You can use it for printing T-shirts, caps, ceramic plates, ceramic tiles, mugs, coasters, mousepads, jigsaw puzzles, lettering, and other misc. fabrics & materials.
Swing-away design -full 360-degree rotation of the swing arm allows the heating element to be moved safely aside, reducing the chances of accidental.
Specifications:
Size: 50X38X45cm
Weight: 37 Kg
Voltage: 220V
Power: 1250W
Temperature Range: 0-380°c
Timing Range: 0-999 Sec
3.
Dinkcart Sublimation Mug Printing Machine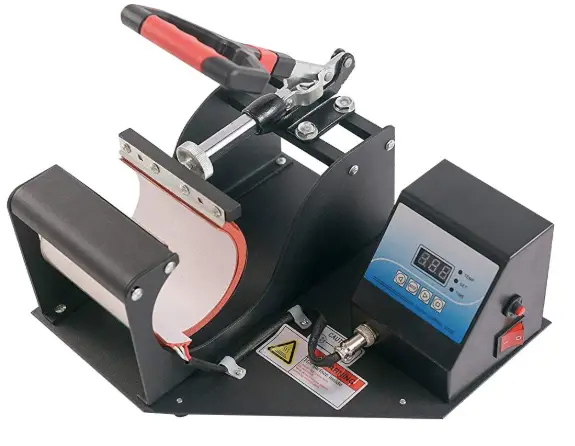 This semi-automatic mug printing machine is made of high-quality raw material. This machine has a standard 11 Oz mug heater. Other Heaters can be attached to this machine which is available as optional accessories. It has Fahrenheit in temperature.
You can print a logo, photo, image, or picture on the mug surface for advertising, or gift purposes with artistic and applied effects.
This mug printing machine is an excellent choice for sublimation for beginners. In addition, you will get 100 sheets absolutely free with the machine.
Specifications:
Color: Multicolor
Size: 1 LB
Included Components: Heat Attachment
Material: Other
4. TIRUPATI ENTERPRISE Metal 3D Sublimation Printing Machine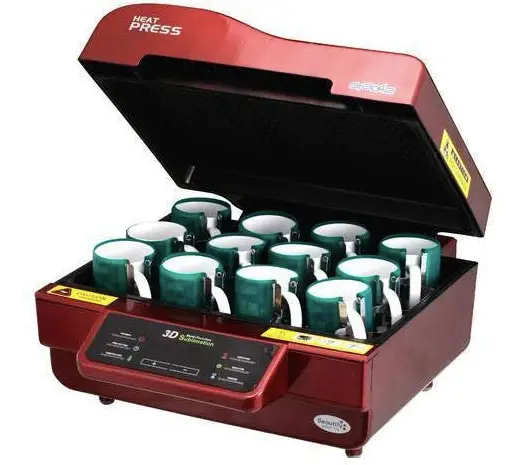 The 3D vacuum press in this mug printing machine is based on the newest sublimation technology.
It is highly efficient and it can imprint 12 mugs at one time.
It can print on a wide array of items like mugs, glass, crystal, acrylic, plastic, wood, metal, stone, fabric, etc.
Specifications:
Color: Black
Size: 54 x 60 x 50 cm
Included Components: 1 X 3D Vacuum Heat Press Machine and others
Material: Other
5. J
D9 3D Sublimation Printing Machine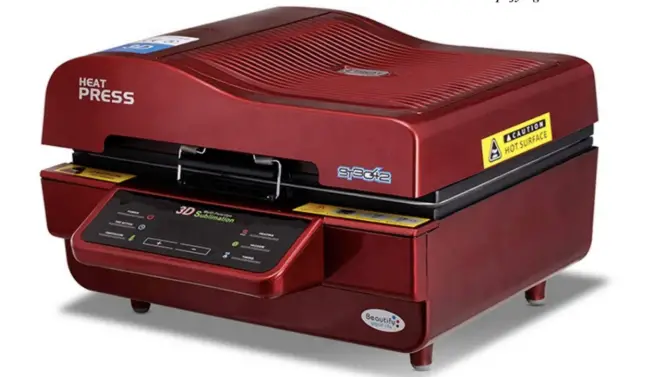 This mug printing machine is made of special aluminum and iron material that is highly flame-retardant and thermal-insulated. It uses hot rollers with vacuum-sucking molding.
This is used to transfer items of three-dimensional surface one time with a perfect imprint effect.
Specifications:
Color: Red
Size:23.6" x 18.5" x 12.2"
Power: 2800W
Material: Other
The above-mentioned mug printing machines are the best available online. Choose the one which suits you best and start your mug printing business.
Next What Business Research Team
The Editorial Staff at NextWhatBusiness is a team of Business Consultants having years of experience in small and medium-scale businesses.