The term loan is a type of loan, which has to be paid in regular installments over time. Term loans are typically sanctioned for an acquiring or constructing or installing capital assets like building the plant, and machinery.
Term Loan Features
1) Banks or Financial institutions granting term loans are creditors and not the owners of the company. They only lend the funds to the company.
2) Basically, they are required to be repaid during the lifetime of the company at a pre-decided interval.
3) Generally, the term loans are either secured or unsecured.
4) Return on term loans is paid in the form of interest. This interest is still paid even if there is nonavailability of profits.
5) This source of raising funds is very risky from company's point of view.
6) Term Loans are less risky on the part of banks and financial institution.
7) Finally, term loans are the cheap source of funds from company's point of view.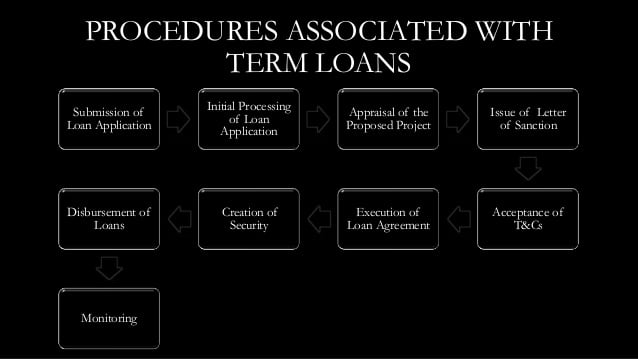 What is Tenure of Term Loan:
Tenure of a term loan refers to the period of which the term loan can be repaid. Typically, you can repay the term loans over 3-10 years based on the project and projected financials.
The rate of Interest for Term Loan:
Generally, banks charge the rate of interest for a term loan on the basis of borrower's profile and credit worthiness. Usually, term loan interest rates come as a set fixed percentage over the bank's base lending rate.
Determining Factors Of Term Loan Eligibility:
Promoters background
Business model
Operational performance
infrastructure
Cost
Location
Collateral security
Present financial performance
Projected financial performance
Credit repayment track record
External credit rating
The credit decision is taken on a composite of the above factors.
Required Documents For Term Loan:
Audited Financial Statement of last 3 years along with Income Tax Return Acknowledgement.
Provisional Balance Sheet for the current year.
Projection of Sales, Purchase, Stock & Raw Material Consumption for the next year.
Quotation of Machinery that you will purchase.
Installed Capacity, Licensed Capacity – existing & proposed, Envisaged Capacity Utilization.
Details of Raw Material requirement, calculation, how desired? Source of supply and supply position. The cost of ram material supported by current quotation.
Catalog / Brochure of Machine (In case of machinery purchase)
Maintenance arrangement & costs thereof.
Detailed project report and Project implement schedule.
Additionally, you have to mention the cost already incurred.
Sources of such expenditure.
Finally, the request letter.
Term Loan Sanction & Disbursement:
On approval/sanction, the sanction letter is issued specifying the terms and conditions for the disbursement of the loan. Then bank takes the acceptance of the terms of sanction from the Applicant.
Additionally, you have to pay the processing charges as specified by the bank to proceed further with the disbursement procedure.
The documentation procedure takes place such as the Legal opinion of various property documents, valuation reports, submission of title deed etc.
After depositing all the necessary documents as specified by the legal department term loan is generally disbursed.