Do you run a restaurant and want to expand your sales volume? Looking for registering with Uber Eats? If yes, find here a detailed stepwise guide on the processes involved in Uber Eats Registration including alternative food delivery aggregators similar to Uber Eats App.
Important Update: Uber Eats in India has discontinued operations and direct restaurants in India., Uber Eats India is now Zomato.
Uber Eats is an American online food ordering and delivery platform. It was launched by Uber in the year 2014. UberEats entered the Indian market in the year of 2017. The Uber Eats India contributed about 13 percent of Uber's overall global gross bookings in the first quarter of 2018. Presently, Uber Eats caters to more than 500 cities in India and is growing every day.
If you are running a restaurant and want to increase your sales volume, partnering with Uber Eats is surely going to help you.
Understand How Uber Eats Work?
Uber Eats is a software application wherein customers can book food browsing menus of local restaurants listed in the Uber App. When a customer signs up an account and opens the Uber App, a list of local restaurants partnered with Uber App are flashed on the screen. The customer can browse and view the menus of the listed restaurants. They can select the items they want and order accordingly.
Suggested Read: Best Restaurant Marketing Ideas 
A delivery driver appointed by Uber App will pick up the food from that selected restaurant and delivers it to you. The app handles all the payment and there is no need for cash transactions.
Steps to Register Your Restaurant with Uber Eats
Uber Eats registration for restaurant owners is simple.
The first step is to visit their official website of Uber Eats here at https://ubereats.com. Scroll Down below. You will find 'Add Your Restaurant' in the footer section of the website as below: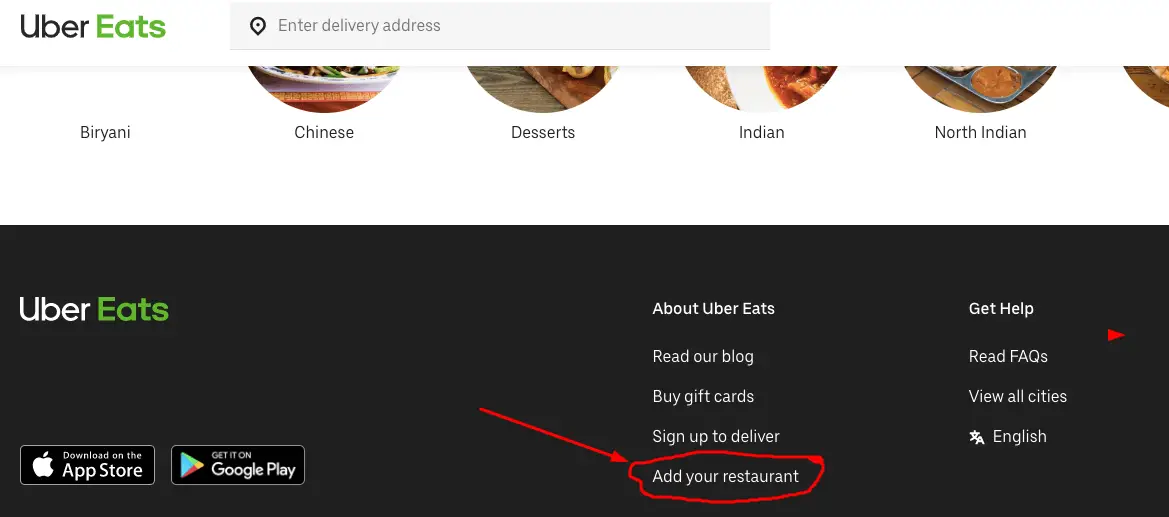 When you click the add your business link, a new window with a 'partner with us' form will be presented as shown below. Here you are required to fill in the information as asked in the form. The information that you are supposed to furnish are the following:
Restaurant Name
Restaurant Address
Full Name
Contact Mobile Phone Number
Email Address
Number of Locations
Type of Cuisine
Do you have your own delivery boys

After you finish providing the information as been asked, just click the Submit Button as shown below:
After the successful submission of the registration form, the officials of the company will review the details and if approved, they will contact you for further discussions. They will send their representative and handhold you in the process of registering your restaurant with Uber App.
5. Licenses & Documents for Uber App Registration
In the continued registration process, you will be asked to furnish some documents and licenses of your restaurant. You must be ready with the licenses before applying a tie-up with the Uber App.
Below are the Licenses you will be required to be ready with:
GST registration is a must at present for running a restaurant in India. If you don't have, you can register for GST number online. To register with the Uber App, you need to provide them with the GST number of your restaurant.
If you are a running restaurant, you will be having a bill copy or invoice for daily financial transactions. You will be asked to provide a bill copy for Uber Eats registration.
Menu copy of your restaurant is another document is a must for partnering with Uber Eats App.
If you want to run a legally compliant restaurant in India, FSSAI Registration is essential. You need to provide FSSAI Registration for successful registration with Uber Eats App.
PAN card/ or Aaadhar card number is needed for registration for owner's identification proof.
Pictures of the Restaurant
Be ready with pictures of your restaurant which will be checked by officials of the company.
A canceled cheque is another requirement for registration with Uber Eats.
5. What is the Cost to Partner with Uber Eats
As a restaurant owner, you are not required to pay any upfront fees for Uber Eats Registration. However, the company will charge a commission on every order executed by the restaurant. Generally, they charge commission approximately in the range of 20% to 50 % for every order.
6. Alternatives to Uber Eats
Presently, there are many food delivery aggregators operating successfully in India. Some of the most popular players in this industry are Swiggy, Zomato, FoodPanda, etc.
Though there are presently many players in the food delivery aggregator market, Uber Eats is surely one of the most sought-after Apps for Indian customers when it comes to ordering food online. If you run a restaurant and looking to expand your sales and develop your brand, Uber Eats is worth considering. We hope this article will help you in understanding the Uber App Registration process in a much simpler way.
Editorial Staff at NextWhatBusiness is a team of Business Consultants having years of experience in small and medium scale businesses.