Are you searching for best hotel management software? Regardless you own a large hotel or a small one, you can achieve a number of benefits from a right hotel management software. Some of the key features are online booking of rooms, generating customer invoices, booking venues, and other services within the hotel, producing reports on a daily basis or weekly, monthly and annually.
It is not tough to find a  hotel management software application nowadays. A quick search on Google with hotel software will yield thousands of results in the blink of an eye. However, you need to ensure that the hotel software you choose to use for your organization is powerful and dependable enough to be able to efficiently meet all the usual demands of the industry.
The most important thing is the software must be chosen rightfully that provide specific solutions and customization of your specific business needs. Here in this article, we have selected a list of best hotel management software systems in India.
List of Top Hotel Management Software – 2017
1. DJUBO | Hotel Management Software
DJUBO is a cloud-based 360 Hotel Sales Management and inventory distribution platform. The software can manage your online and offline hotel sales. There Is No Extra Infrastructure Requirement Or Setup Cost. You Can Start Using The Desktop Application And Mobile App Immediately Upon Signup.
For more details visit the official site of Djubo. 
---
2. InnkeyPMS
innkeyPMS is promoted by Innkey Infosystems Pvt. Ltd. The company was founded in 2011 in Ahmedabad, Gujarat in India. InnkeyPMS is a cloud-based hotel management software and rapidly growing company in the hospitality industry. It's offer end to end solutions for the hospitality industry. The software helps in providing better service, better staff productivity, cost control and a sharp increase in profits etc
Visit for more details the official site of InnkeyPMS.
---
3. Hotelogix PMS | Hotel Management Software

Hotelogix is an online PMS software solutions on the cloud. It offers simple ways to track guest payments at all stages of a Hotel booking and stay of the guest. It keeps you connected to all the key areas of your Hotel. Bookings from your website or travel agents, from outside channels. Hotelogix offers additional modules that let users extend their reach to the web with its booking engine through the property's website, as well as through thousands of travel portals available on the web via its channel management and GDS Connect.
For more details visit the official site of Hotelogix. 
---
4. Aatithya HMS | Hotel Management Software

Aatithya Hotel Management Software is the flagship product for optimizing the real-time operational efficiency of a hospitality business. The software is developed by Dataman Computer Systems. It has been designed as a flexible, customizable, reliable, stable and cost-effective solution for managing the requirements of an entire hospitality industry. The software can be used in Budget Hotels, Motels, Lodges, Guest Houses, Megamalls, Resorts, Clubs, Restaurant & point of sales, Banquets etc.
For more details visit the official site of Aatithya.
---
5. Truelogics | Hotel Management Software
Truelogics Infotech Private Limited is established and growing IT Company with a Vision. Exclusively dedicated to the hospitality industry, we bring solutions to your specific needs so that the work can be done the right way. For Hotel Management Software,truelogics have introduced easy-to-use True hotel software, known as True hotel Front Desk.
For more details visit the official site of Truelogics.
---
6. eZee Frontdesk | Hotel Management Software
eZee FrontDesk is an online PMS software that enables hotels and hotel chains to run business operations. This system helps to manage all the Check-in, Check-out, House-keeping, Online bookings and many other operations. eZee's online booking engine is a complete online reservation solution that takes hotel occupancy rates to a new level, by allowing the hotel or any property to receive online bookings from hotel's website and various other sources.
For more details visit the official site of eZee.
---
7. ShawMan | Hotel Management Software
ShawMan PMS is developed by ShawMan Software Pvt. Ltd. This is an efficient tool to manage rooms, guest preferences and other numerous standard operations including information analysis for the category. The concept of Head Office and unit helps in centrally managing rates and business processes for a chain of hotels.
For more details visit the official site of ShawMan. 
---
8. Hoteliga | Hotel Management Software
Hoteliga is a cloud-based hotel property management system with a comprehensive set of features that help automate the daily tasks of an hotelier. Applications include reservation management, point-of-sale, reporting, housekeeping management, an online booking engine, guest history management and rate management. Hoteliga also includes a booking engine for the hotel's website to increase direct bookings. Hoteliers can monitor guest history and compile profiles with contact information as well as guest preferences to increase personalization.
For more details visit the official site of  Hoteliga. 
---
9. Next Comfort | Hotel Management Software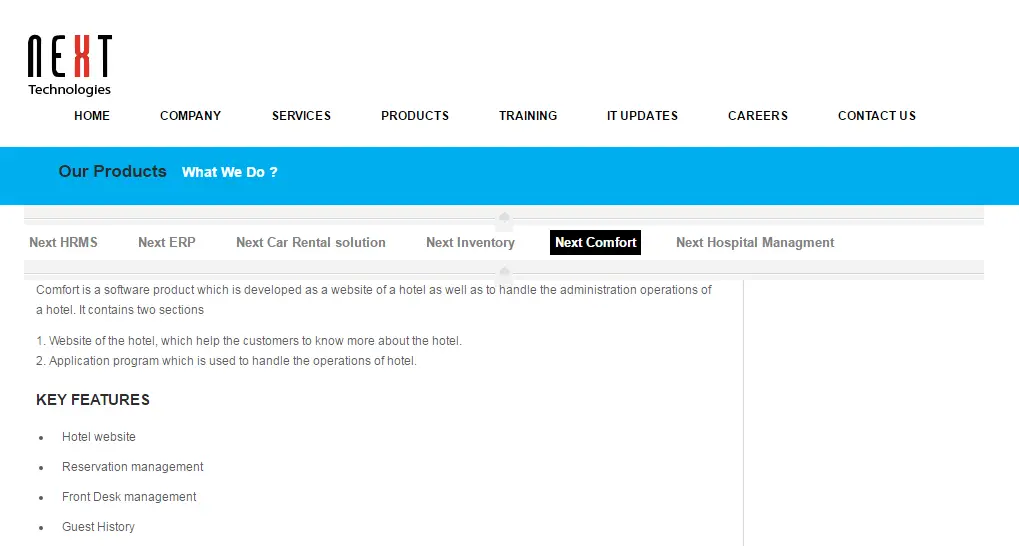 Next Comfort is an online hotel management system product which is developed as a website of a hotel as well as to handle the administrative operations of a hotel. The system is developed by Next Technologies. It has features like hotel reservation management system, hotel billing, and booking management.
For more details visit the official site of Next Comfort. 
---
10. Tally ERP 9 | Hotel Management Software
Tally ERP 9 has a great hotel management solution. Tally is one of the most popular Indian accounting software for almost two decades in the small and medium industry sector. Tally Solutions Pvt Ltd has developed this software.The software is most user-friendly from the user point of view. Generally, small business owners prefer Tally for easy availability of trained professionals for this specific software.
For more details visit the official site of Tally.
---
According to the size, mode of operation and marketing aspect choose the most specific and right hotel management software for your business.